Texas Educational Colorguard Association
Building Better Guards for Better Bands
Announcements:
WGI rule changes for 2014 may be found here. Or on the FORMS page.
Note: The WGI Rulebooks for Colorguard and Percussion have been moved to the Judges' Area; please log in to view these materials.
---
PRESS RELEASE
This service is new, and just like WGI and DCI's Fan Network, but just for TECA!
Your access even allows you to view all the groups we film nationwide in our library. You get the keys to the entire library!
PRE-SALE DISCOUNTED Championship DVD's will go on sale as soon as we have a preliminary lineup, and pre-sale prices are 20% lower than post-event pricing.
Directors, have you done your Director Media form? That's your key to all the benefits . . . here is the link:
Saturday, March 8 - New Braunfels High School, New Braunfels
Saturday, March 15 - San Marcos High School, San Marcos (Hosted by ATX) AND Edinburg North High School, Edinburg
March 22 - PERCUSSION & CADET/NOVICE COLORGUARD CHAMPIONSHIPS - Canyon HS, New Braunfels, TX
March 29 - REGIONAL A AND A CLASS COLORGUARD CHAMPIONSHIPS - Southwest HS, San Antonio, TX
Canyon High School in New Braunfels will be hosting colorguard solo and ensemble contests on Saturday, April 12 and Saturday, May 3. For more information, please email Bob Whipkey.
---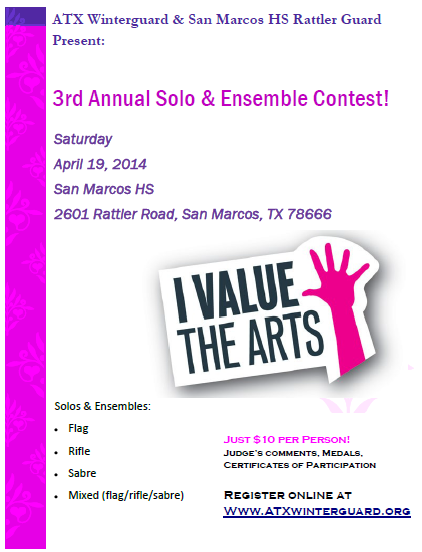 ---

Follow us on Twitter: @2014TECA

Instructors and judges find us on Facebook: TECA Community of teachers, adjudicators, and administrators
---
---
Board of Directors:
Links:
TheArtsDirectory.net - Art Links
Winter Guard Circuits:
North Texas Color Guard Association