Texas Educational Colorguard Association
Building Better Guards for Better Bands
Announcements:
The 2014 Fall membership meeting will be held Saturday August 2 at Madison HS. in San Antonio.
Proposals for rule changes for the 2015 season may be found here.
These proposals will be voted on at the Fall 2014 meeting.
Election of vice-president of colorguard, secretary and parliamentarian will also take place.
---
2015 Contest Schedule announced:
January 10
January 17
January 24
January 31 - First Score Requirement
February 7 - (WGI Houston)
February 14 - NO CONTEST TMEA
February 21 - (WGI Austin)
February 28 - Second Score Requirement
March 7 - (WGI San Antonio)
March 14 - (WGI Dallas)
March 21 - First Championships Weekend
March 28 - Second Championships Weekend
---
C

ongratulations to our 2014 class champions:

CADET COLORGUARD - CF Truan Middle School

SCHOLASTIC NOVICE BLUE - Rio Hondo High School

SCHOLASTIC NOVICE RED - San Benito High School

SCHOLASTIC REGIONAL AAA - Southwest High School

SCHOLASTIC REGIONAL AA - Vela High School

SCHOLSTIC REGIONAL A - Lopez High School

SCHOLASTIC AAA - Calallen High School

SCHOLASTIC AA - Robert E. Lee High School

SCHOLASTIC A - Edinburg North High School

SCHOLASTIC OPEN - Madison High School

INDEPENDENT SENIOR - Capriccio Independent

CADET CONCERT PERCUSSION - Calallen Middle School

SCHOLASTIC A CONCERT PERCUSSION - Eagle Pass High School

SCHOLASTIC AAA MARCHING PERCUSSION - Thomas Jefferson High School

SCHOLASTIC AA MARCHING PERCUSSION - Porter High School

SCHOLASTIC A MARCHING PERCUSSION - Calallen High School

SCHOLASTIC OPEN MARCHING PERCUSSION - W. H. Taft High School
---
PRESS RELEASE:
The Pre-Sale Discounted DVD's of the upcoming 2014 TECA Championships are available now, for 4 days only.
This offer is only good for online purchases, and prices may go up incrementally until championships day .
This $39 price will only be good until

March 20

, then the next tier pricing goes into effect through event day, and later post-event pricing.
---
---
March 22 - PERCUSSION & CADET/NOVICE COLORGUARD CHAMPIONSHIPS - Canyon HS, New Braunfels, TX
March 29 - REGIONAL A AND A CLASS COLORGUARD CHAMPIONSHIPS - Southwest HS, San Antonio, TX
Canyon High School in New Braunfels will be hosting colorguard solo and ensemble contests on Saturday, April 12 and Saturday, May 3. For more information, please email Bob Whipkey.
---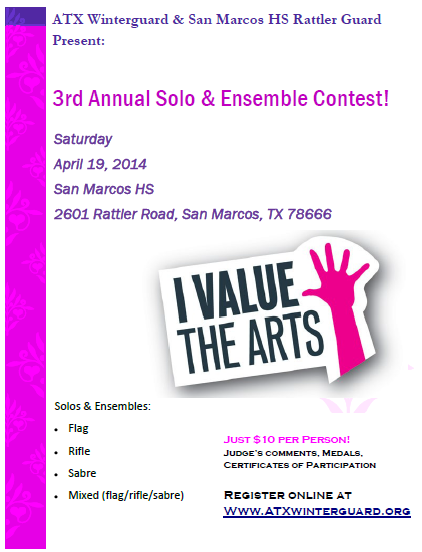 ---

Follow us on Twitter: @2014TECA

Instructors and judges find us on Facebook: TECA Community of teachers, adjudicators, and administrators
---
---
Board of Directors:
Links:
TheArtsDirectory.net - Art Links
Winter Guard Circuits:
North Texas Color Guard Association